NEW MIXTAPE
GASMAN UBY
"FADE AWAY"
HOSTED BY
DJ SMALLZ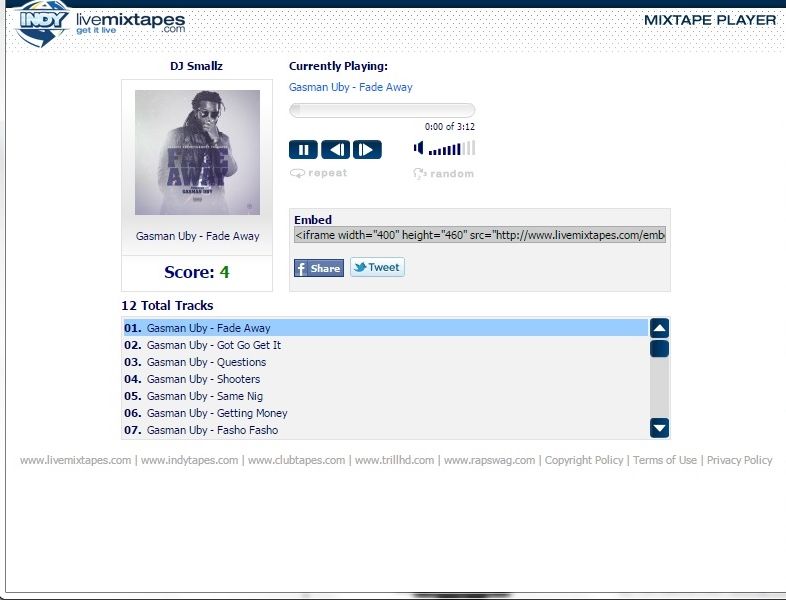 CLICK HERE TO LISTEN TO "FADE AWAY" NOW!
GASMAN UBY
For three decades strong, the city of Atlanta has long set the standard for rap music. Beginning with the booty shake of Kizzy Rock, evolving into the consciousness of Outkast, and continuing to push the envelope with Jeezy, T.I., Future, Migos and too many more to name, the A-town has consistently come with the hottest trends in hip hop culture.
Continuing in that longstanding tradition of cooking up enough flavors to make even G. Garvin jealous, Atlanta-grown Grady baby Gasman Uby has taken the A by storm. Since stepping on the scene less than two years ago, he has gone from being a neighborhood superstar to sharing main stages at SXSW in Austin and Orange Crush Weekend in Savannah.
"There's has been a lot to come in one year. Everything is happening so quick," says Uby. "I'm just glad to be here. I thank God for being blessed and being alive."
Kicking off his career with YouTube music video singles "Hunnid" and "Drugs," Uby's one-time flickering flame of a fan base caught on like a match to petroleum. His gusts of musical flames continued to spread with Uby's Gaslife Entertainment-released mixtape Trap Beatin. Hosted by DJ Plugg and produced by Bobby Critical (K Camp, B.O.B., Future), Gasman Uby has set the world on fire with a brand spanking new movement and a fresh sound to the Motown of the South.
Coming into this world named Chris Dawson, he earned the name Uby as a mistake. At 14, he was getting a homemade tattoo to pay homage to his grandmother. "Her name is Ruby but instead, the guy put Uby," he laughs. "It was crazy because everybody was like 'we'll just call you Uby from now on.' Everybody ran with it in the hood so I ran with it."
It was that same easy-going attitude that helped him cope with the pains of growing up the youngest of three to a mother hooked on crack and a father who barely came around. With his mother in and out of jail through most of his childhood, young Chris was shuffled from foster homes all across the city and the state of Georgia. But he never let the drama of life take him under.
Besides hustling and surviving, Uby started rapping at age 12. His older brother Dirty Red was an aspiring rapper at the time. As Uby imitated his older brother, the youngster gradually got better and better. He never released any music prior to October 2014 because he felt he simply wasn't ready yet.
When he finally got his money right, Uby started throwing flames with his own homemade music videos. "I never really had no team of people to help me or tell me what to do," he says. "This is just one person putting it online, shooting it, getting my folks to edit it and putting it on YouTube. This was all done in just one year."
And his hard work has definitely paid off with highly popular Gaslife Entertainment-released debut mixtape Trap Beatin and much anticipated follow-up, "FADE AWAY," hosted by Dj Smallz available now on livemixtapes. "I rap about trap music but I rap about everything," Uby contends. "I don't mind doing other music because my music comes from feelings. There's no particular style. I'm like James Brown
FOLLOW UBY NOW
CLICK HERE TO FOLLOW UBY ON INSTAGRAM

FOR BOOKING OR INTERVIEWS
CONTACT
OVERDATOPENT@GMAIL.COM